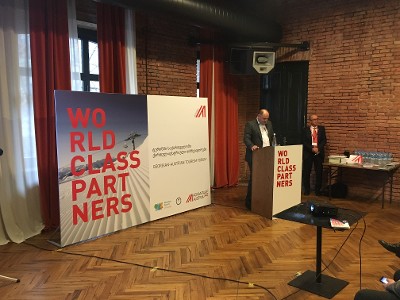 Georgian-Austrian Business Forum
EUGBC top Management and Member companies took part at the Georgian-Austrian Business Forum held  On November 5, 2019.
Within the framework of the visit of 9 Austrian companies delegation to Georgia, the  Forum was organized by the Austrian Foreign Trade Representation (Advantage Austria) and supported by the Georgian Chamber of Commerce and Industry.
Austrian Ambassador to Georgia H.E Arad Benco, Austrian Consul for Trade in Turkey, Georgia and Azerbaijan, Georg Karabaczek and President of the Chamber of Commerce and Industry of Georgia, George Pertaia opened the Business Forum.
 Austrian companies represented following economic sectors: Mechanical Engineering,  Energy, Logistics, Infrastructure, Agriculture and etc. The main goal of the companies were to make connections with Georgia, seek competent partners and offer them Austrian experience and quality.
Within the framework of the business forum bilateral business meetings were held between Georgian and Austrian sides, with participation of about 50 Georgian companies