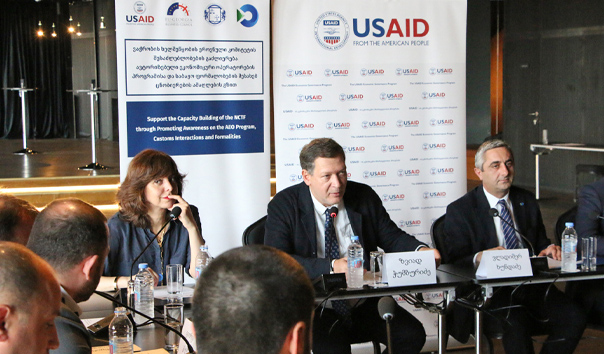 Presenting "Study of Challenges Related to Obtaining Authorized Economic Operators (AEO) Status"
Today, the EU-Georgia Business Council presented the "Study of Challenges Related to Obtaining Authorized Economic Operators (AEO) Status which was conducted within the framework of the USAID Economic Governance Program grant.
The event was attended by representatives of the Revenue Service, the Ministry of Finance of Georgia, the USAID Economic Governance Program and business associations, as well as exporters, importers, owners of customs warehouses, forwarders, carriers, auditing companies, etc. 
At the start of the event, the remarks were made by: Nino Chokheli – USAID Deputy Head of USAID Economic Management Program, Vladimir Khundadze – Deputy Head of Revenue Service, and  Zviad Chumburidze  – Secretary General of the EU – Georgia Business Council. As well as,  Giorgi Kacharava – Executive Director of the EU-Georgia Business Council (EUGBC) and Irakli Tsikoridze – Co-founder of Economic Development Center.
The Institute of Authorized Economic Operator was introduced by the Revenue Service of Georgia to ensure the implementation of the Association Agreement and Deep and Comprehensive Free Trade Area signed between Georgia and the European Union.
Benefits of the authorized economic operator status are following:
simplified procedures: use of simplified customs procedures;

Less inspection: the burden of the status holder will be less subject to physical and documentary inspection;

Considering the cargo as a priority: if the cargo is selected for physical inspection, the status holder is given priority compared to other persons and his cargo will be checked first under accelerated conditions, so that the cargo will not be detained for a long time at the customs;

Carrying out inspection in another territory: the possibility to carry out physical inspection of the cargo outside the customs territory, in the territory previously requested by the status holder;

Exemption from presenting a guarantee during the use of the import and domestic processing mode;

Recognition of equivalence by another country;

Other indirect benefits.