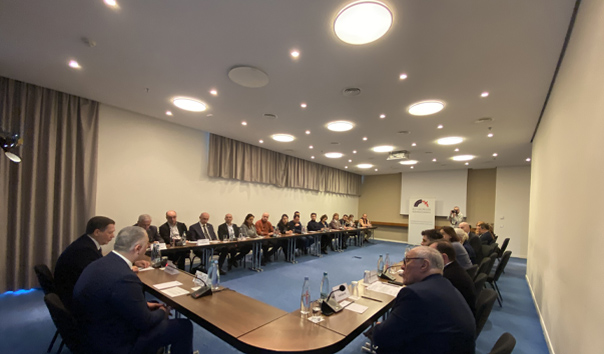 Meeting with the Minister of Finance of Georgia
On February 22, H.E. Lasha Khutsishvili, Minister of Finance of Georgia held a meeting with EU-Georgia Business Council members.
Discussion was related to the current economic stance and investment allure of the country.
Minister of Finance of Georgia reviewed the developments in the economy of the country during the past 2 years, along with the components required for creating a healthy environment for businesses and investments.
Minister also referred to the significance of macroeconomic stability and fiscal discipline in the conditions of global and regional challenges. According to him, economic policy of Georgia deems the private sector to be the main engine of economic growth. He also noted that focus is predominantly made by the Government on the implementation of investment projects that facilitate and attract private investments to specific sectors, including the construction of highways, tourism infrastructure, Black Sea Submarine Electricity Transmission Cable and a Deep Sea Port.
As the Minister of Finance of Georgia added, one of the most solid and stable assessments of the investment allure of the country is its Sovereign Credit Rating. He believes the Investment Rating to be the key goal of the Government of Georgia.
Meeting turned out to be interactive. Minister of Finance responded to questions posed by the EU-Georgia Business Council Members.