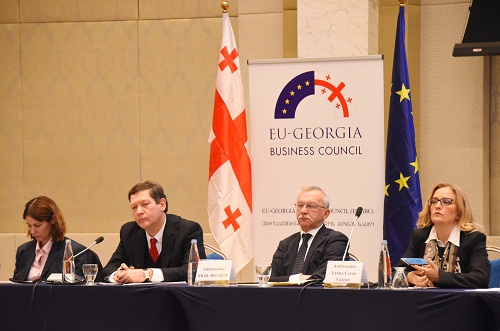 Conference "Black Sea- Georgia's Opportunities & Challenges"
Conference – "Black Sea – Georgia's Opportunities and Challenges" was  organized by  "EU-Georgia Business Council", on December 6, 2019.
The general partners of the event were PRIME MARINE, APM TERMINALS, PACE GROUP, ANAKLIA DEVELOPMENT CONSORTIUM and the partners – BDO AND TURKON Line.

Among the participants were representatives of Diplomatic Corps, Georgian and foreign business sectors, EBRD country manager, experts and top management of the Seaports of Georgia.
The speeches were given from the ambassadors of the Black Sea region countries Romania, Turkey and Ukraine, EBRD country manager, experts and sea port top management.
It should be noted that this kind of conference is first ever held in Tbilisi recently and carries an informative character. It aimed to discuss Georgia's perspectives and challenges to become a regional logistical and transport corridor under the current competitive circumstances.
Facing the existing political challenges nowadays (meaning Georgian-Russian tense political relations) Black sea is considered to be the guarantee of countries independence and economic development.
 "EU-Georgian Business Council" expressed readiness to make conference an annual event.