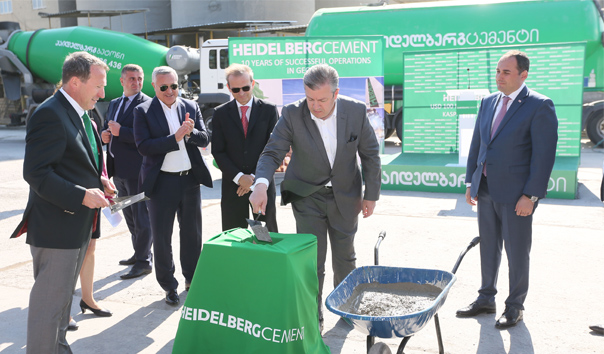 Upgrade of the Heidelbergcement Kaspi Cement Plant is launched
100 million USD investment project of Heidelbergcement – Upgrade of the Heidelbergcement Kaspi Cement Plant is launched.
On September 27th, the groundbreaking ceremony of the USD100 million investment project of Heidelbergcement Caucasus – upgrade of the Kaspi Cement Plant to the modern Dry Line method of clinker production was held in Heidelbergcement Plant, Kaspi, Georgia.
The investment project calls for full modernization of Heidelbergcement Kaspi plant and construction of clinker production dry line. The project will further ensure the highest standards of the production process and will result in its greater efficiency. Apart from introducing new technologies, it will contribute to Georgia's economy through improved trade balance and better environmental management of the local nature.
The groundbreaking ceremony was attended by the Prime Minister of Georgia, Mr. George Kvirikashvili, the Minister of Economy of Georgia, Dimitry Kumsishvili, the Ambassador of Germany in Georgia, Dr. Heike Peitsch, Heidelbergcement Group Director of Northern and Eastern Europe-Central Asia and Member of the Managing Board – Dr. Albert Scheuer, the General Director of Heidelbergcement Caucasus, Mr. Michael Hampel, who made special welcoming speeches on this occasion.
General Director of Heidelbergcement Caucasus welcomed the guests and made short overview of the company's success story in Georgia: "Heidelbergcement Group stepped into Georgia 10 years ago in 2006 – therefore 2016 is an anniversary year for us. This are 10 years dedicated work to develop the Georgian operations into a modern and performing company and 10 years of permanent improvement of the manufacturing facilities and continuing qualification of our Georgian workforce."
"The Heidelbergcement Group is looking forward helping the state of Georgia in its biggest challenges for the next years: Developing the infrastructure: ports, highways, tunnels and bridges and Developing the huge potential of Hydro power technology. For both things cement is a basic factor and Heidelbergcement Caucasus will make sure that Georgia will never be dependent on imports of this key product." – stated Mr. Hampel.
 "With the new dry line in Kaspi, clinker capacity will be increased by more than 1 million ton of clinker, which will serve our own plants and also our external clinker customers. The project will guarantee high quality standard products at lowest energy consumption and costs. The new dry line will set new standards in terms of green technology application not only in Georgia, but also worldwide. All gases of the kiln will be cleaned in highly efficient bag houses. The kiln will have the lowest possible heat consumption and is prepared to fire maximum amount of alternative fuels. Raw meal and coal are exclusively milled in vertical mills with minimum electrical energy consumption. This will enable the company to produce its products at minimum environmental damage and will set a new benchmark in the industry", said Dr. Albert Scheuer.
The Prime Minister congratulated the company with the 10 Year Anniversary and with the new investment project: "It is important that Heidelbergcement – a German DAX company and one of the world's leading building materials producer further expands production and makes huge investments in Georgia", the said PM and wished success to the Heidelbergcement.
German Ambassador to Georgia Dr. Heike Peitsch talked about huge potential for development of Georgia-Germany economic relations. The Investments made by Heidelbergcement signifies huge confidence in the country. German logistics companies are also interested in making investments in Georgia, the Ambassador said.
The upgrade and development of the Georgian business of Heidelbergcement Caucasus will take place between 2016 and 2018.
About Heidelbergcement
Heidelbergcement Caucasus is the Georgian subsidiary of Heidelbergcement Group and the market leader for cement in Georgia. Heidelbergcement Group is one of the world's largest integrated manufacturers of building materials with leading market positions in aggregates, cement, and ready-mixed concrete as well as other downstream activities. The company employs 63,000 people at more than 3000 production sites in around 60 countries on five continents.
Heidelbergcement started business in Georgia in 2006. After ten years of continuous development of the business, the Georgian subsidiary Heidelbergcement Caucasus currently operates three integrated cement plants (Kaspi and Rustavi), a cement grinding facility in Poti and a cement terminal at the Black Sea coast. The cement production capacity exceeds 2 million tons of high quality cement annually.
The cement business is supported by a strong network of 12 ready-mixed concrete plants that produce more than 670.000m³ concrete per year. Sand and aggregates for the concrete is partly supplied by two own aggregate pits in Batumi and Tbilisi.