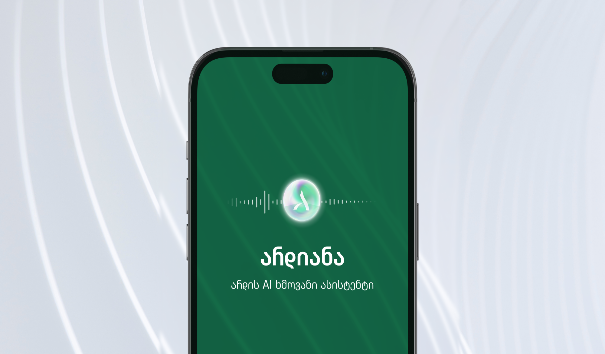 The world's first Georgian AI Enterprise voice insurance assistant with artificial intelligence was created With the cooperation of Ardi and CalenAI
With the cooperation of Ardi and CalenAI, Georgia's and the world's first AI Enterprise voice insurance assistant with artificial intelligence was created. It is an important technological innovation in the insurance company Ardi. Ardiana, the first employee with artificial intelligence, joined the ranks of Ardels.
Ardiana – the first AI Enterprise voice assistant in the world that speaks Georgian. It will help Ardi policyholders in the first stage to book the most requested service – visits to family doctors, will answer the first call and will never put them on standby even at the highest demand.
The project was created in collaboration with the technological startup CalenAI, which is one of the winners of the Georgian Startup Summit and the winner of the Google Award for Conversation Design.
"In the post-pandemic period, we found that it was more and more difficult for us to find such personnel resources, which at the same time have a demanding and necessary function, but at the same time have to perform largely routine activities.
to fulfill Such was represented, for example, by the employees of the 24/7 call center, who helped our policyholders to organize visits to family doctors. The shortage of personnel created waiting lines in the telephone channels, which none of us in the role of the customer is tolerant of. It was at this time that our attention was drawn to the Georgian technological startup, CalenAI, with whom we decided to create this technological experiment – a virtual voice assistant based on a unique artificial intelligence and speaking in the Georgian language, which we called Ardiana.
As unexpected as it may sound, Ardiana's appearance was met most positively by the call center employees themselves. They clearly understood that a virtual voice assistant would allow them to save their time resources on simple and routine calls, while having as much resources as possible to manage the quality of such individual needs.
To serve where irreplaceable and unique – human empathy, focus and individual problem solving are required. Although Ardiana already works out quite complex logics and tries to speak Georgian fluently, she continues to study every day and improves the more our policyholders talk to her. Therefore, we have high hopes for the support of our policyholders
They will be less critical of it and, on the contrary, will help it become the most comfortable virtual insurance assistant for them very soon." – notes Teona Goderidze, Ardi's business development director.
"We are proud to have worked with Ardi on such an important project." Before establishing itself in the Georgian market, CalenAI has been operating in foreign markets for many years – in Australia and the United States of America. However, as soon as Google Georgian language appeared for the first time in the prototype of Conversation Design in 2020, immediately there was a great desire to create the first Georgian-language voice assistant with artificial intelligence.
"We created a voice assistant with intelligence. It was quite a difficult and time-consuming way, but we are glad that it turned out to be successful and we already have the first, perfect AI Enterprise Georgian-speaking assistant in Georgia and the world. It should be noted that Ardiana is a unique precedent that forces Google itself to improve the Georgian script every year and make it as perfect as other widely spoken languages. We continue to further develop Ardiana, and very soon it will provide assistance in many other insurance matters to both Ardi's policyholders and the employees of Ardi's call center, thus significantly facilitating their daily work mode" – notes CalenAI Founder Irakli Beselidze.
To get to know Ardiana, Ardi policyholders can usually call Ardi's 24/7 call center on 0322101010 and press button – 3 to schedule an appointment with their family doctor. Starting today, all calls are now answered by Ardiana will serve.