PASHA Bank – General Sponsor of several projects
On September 10th, 2016 the year's major marketing event Spotlight 2016 took place in Radisson Blu Iveria hotel. For the second year PASHA Bank was the general sponsor of the event.
Spotlight takes place since 2013 and it hosts Georgian marketers and other professionals to share their experience with the public and colleagues. This year above 450 guests attended the event, among them PR and marketing specialists of the local and international companies, advertising agencies and those merely interested in the subject.
Last year PASHA Bank launched a new project Spotlight Marketing Library that aims to create a single comfortable space with the professional literature in Marketing, Branding, PR and other related fields that will be available for everyone interested in these topics.
This year PASHA Bank donated more than 50 books to the library and those Spotlight guests who registered at the Spotlight Marketing Library stand received free reader passes from PASHA Bank.
"PASHA Bank operates in Georgia for 3 years already and during this period we have regularly supported educational and professional projects. Spotlight is one of this kind as it creates a platform for marketing and advertising professionals to share their knowledge and experience with each other. We are proud to sponsor Spotlight for the second time and that our mutual projects Spotlight Marketing Library and analytical rubric on Marketer.ge are very popular among those interested in the sphere." – said Anano Korkia, Head of PR and Marketing at PASHA Bank.
"Our cooperation with PASHA Bank started 2 years ago and since then the Bank sponsored Spotlight twice, the video records of which are public and viewed by thousands of users. We have also joined our forces on two major projects: Spotlight Marketing Library where one will find the most contemporary professional literature that is brought to it by PASHA Bank and our favorite rubric on Marketer, where we translate and publish the analytical articles by Harvard, Stanford, Kellogg. Our partnership with PASHA Bank is a good example of companies' productive collaboration and the initiatives that come from PASHA Bank have a long term effect on the development of our business society as the books, articles and videos are consumed by more and more people each year."- said Ako Akhalaia, founder of Marketer.
Business Café meets up for a sixth time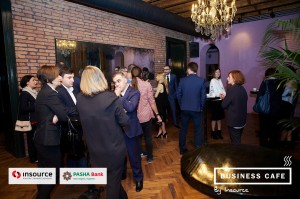 With the exclusive support of PASHA Bank the meetings of "Business Café" – the project initiated by consulting company "Insource"  – continues. On Sept. 29th the sixth meeting hosted representatives from top management of the leading businesses. The meeting was moderated by Lado Gurgenidze, former Prime Minister of Georgia, an executive chairman of the supervisory board of Liberty Bank. The topic he presented for discussion was "Thoughts about management and leadership".
Business Café meetings were initiated in October, 2015 and since then the project has significantly grown in popularity due to its unique format that provides a venue for an interactive discussion with industry leaders, exchange of ideas on recent trends in various industries and the economy as a whole.
Among the past speakers and presented topics of the previous Business Café meetings were: Giorgi Kadagidze, former president of National Bank of Georgia, with the topic "Innovation management", David Gogichaishvili, general manager of Night Show Studio – "Management of human resources", Alexander Jejelava (now Minister of Education of Georgia) –  "Organizational corporate culture", Andro Dgebuadze, business advisor – "Management 3.0 or MBA books in mirror" and Papuna Toliashvili, founder and managing partner of Synergy Group – "Circular Organizational Structures".
Till the end of the year Insource and PASHA Bank plan to hold two more meetings.
"Business Café serves as a popular platform for the managers of the leading businesses to meet and socialize. Each moderator shares own profound, unique experience and achievements followed by a highly interactive discussion. The format had been received extremely well by the diverse groups of participants. We are more than happy that Insource is running this project with the exclusive support of PASHA Bank, as it is a good opportunity for us to contribute, to the development of the business, and market economy of our country." – said Anano Korkia, Head of PR and Marketing Department at PASHA Bank.
PASHA Bank – Partner of Advertising Festival Ad Black Sea
From September 22nd Batumi will host the annual international advertising festival Ad Black Sea for the second time. PASHA Bank is the special partner of the festival.
The festival will take place at Hilton Batumi Hotel and will bring together the industry's key players, who will conduct seminars, and hold discussions on most recent advertising trends as well as interactive workshops. The Festival will be closed by traditional award ceremony. Alongside the educational and formal part the festival will also provide cultural and evening programs for more than 300 delegates to network and share experiences.
PASHA Bank provides regional corporate and investment banking services to large and medium-sized enterprises and strives to contribute to the growth and development of the Georgian and regional economy through funding value accretive projects both locally and regionally. PASHA Bank regularly supports educational and professional projects as the development of the country's business and economy fundamentally depends on the professional growth of both the experienced and the young professionals who are or will be involved in making essential decisions for their companies on a daily basis.
"We see Ad Black Sea among those projects that contribute to our country's economic and business development; our decision to support the festival was based mainly on this consideration and also the learning and socializing opportunity that it provides for the local and international professionals from Marketing and Advertising fields. It is important that local companies stand by these kinds of events. We hope our support will contribute to the success of the festival" – said Anano Korkia, Head of PR and Marketing Department at PASHA Bank.
"The scale of the festival has grown, this year we have 7 categories and 55 subcategories. The winners will be chosen by the jury, which contains famous professionals from Europe, Black Sea Region and different countries.  The involvement of the private business sector is very important for us, because it helps us conduct the festival successfully, which, itself, contributes in developing the advertising sphere in Georgia." – Vato Kavtaradze, President and Co-Founder of "Ad Black Sea".
PASHA Bank sponsors oikos Summer School
PASHA Bank co-funds oikos Summer School which will take place at Tbilisi State University through 1-5 September. oikos is an international student-driven organization for sustainability in economics and management founded in Switzerland in 1987. The major topic of discussion will be "The Education for a Better World". Among the attendees there will be 30 local and international participants as well as specially invited professors and facilitators.
The five-day project aims at bringing the students and professors together to learn the new methods and approaches of management. Over the course of the Summer School participants will have the opportunity to explore their own leadership skills, look at how to develop them and contribute to the common good of society. The teachings will focus on the following: planet care, collaboration between the nations, creating customer oriented organizations, employees' welfare, etc. This year Tbilisi State University hosts oikos Summer School for the third year in a row.
"PASHA Bank regularly supports the projects that are aimed at educational and professional development in the country. oikos Summer school is focused on trendy topics and we believe these meetings will affect the participants' knowledge and experience in the most positive way," – said Anano Korkia, Head of PR and Marketing at PASHA Bank.
"Education is one of our core topics. oikos organizes more than 500 projects in more than 30 countries annually. Topic of the Summer School is currently very popular worldwide and particularly important for our region. Today's students are future leaders, so it is essential to prepare them for the challenges of tomorrow. We couldn't do what we do without our donors and partners. We would like to say special thanks to PASHA Bank for its tremendous support in terms of funding, ideas and outreach." – Ani Lomouri, Director of Summer School 2016.