Dentons cross-border team participated in GIAC Arbitration Days in Tbilisi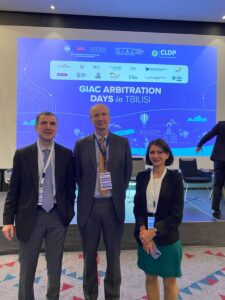 Dentons' cross-border team participated in Georgian International Arbitration Centre (GIAC) Arbitration Days in Tbilisi. Dominic Pellew partner from Dentons' London office participated as a speaker in panel discussion on Use of Technology in Dispute Settlement. Dentons' Tbilisi office was also one of the sponsors of the event.
The 10th annual conference – GIAC Arbitration Days was held on October 11-13 at the Sheraton Grand Metekhi Palace Hotel. About 170 local and international arbitrators, judges, lawyers and representatives from the academia attended the events. Leading practitioners and experts in the field discussed the trends and challenges in arbitration, including investment protection and dispute settlement, dispute resolution and technology, new challenges in enforcing arbitration agreements and awards, dispute resolution in armed conflicts, the state and future of energy disputes, and settlement of sports disputes.
Otar Kipshidze, Georgia Managing Partner at Dentons, noted: "I am delighted that Dentons was one of the sponsors of this important event and we had a representative from London office at the panel discussions. Dominic Pellew is an arbitration expert with an experience of acting in disputes involving parties from eastern Europe, in London and other European seats. GIAC Arbitration Days was important event not only for Georgia, but also international community of professionals interested in arbitration and alternative methods of dispute resolution."
Lela Basilaia from Dentons' Tbilisi office commented: "As someone who's had the privilege of attending the event for several years, I can attest to the incredible insights and connections this conference offers. I am proud that Dentons was part of the event, which is giving opportunity to reunite with familiar faces and making new connections in the world of international arbitration."
About Dentons
Across over 80 countries, Dentons helps you grow, protect, operate and finance your organization by providing uniquely global and deeply local legal solutions. Polycentric, purpose-driven and committed to inclusion, diversity, equity and sustainability, we focus on what matters most to you. www.dentons.com