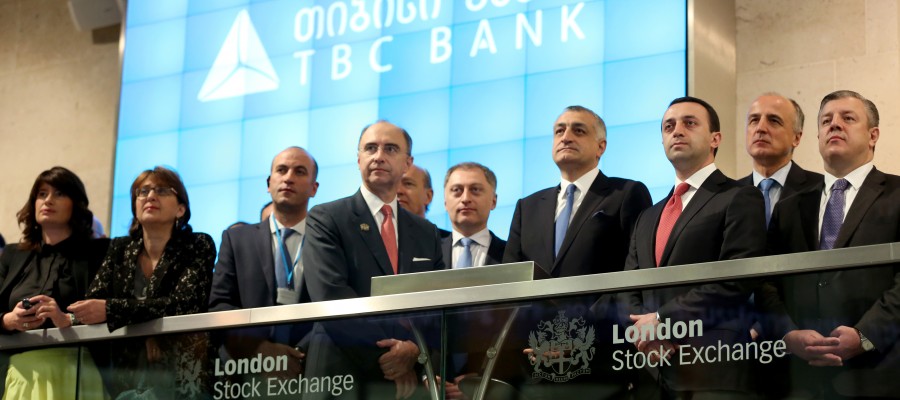 TBC Bank on London Stock Exchange
11.06.2014 – TBC Bank has conducted an Initial Public Offering (IPO) on London Stock Exchange. TBC Bank joined the world's leading companies listed on London Stock Exchange – one of the largest stocks exchanges in the world. TBC Bank's Initial Public Offering on the London Stock Exchange was conducted in the form of Global Depositary Receipts. Barclays PLC and UBS were Joint Global Coordinators and Joint Bookrunners, Renaissance Capital was Joint Bookrunner, and Peel Hunt was Co-lead Manager on the IPO. This transaction is of international significance where the price of  shares listed by TBC Bank exceeded GEL 400 million.
TBC Bank IPO is the largest ever off-index international IPO out of Europe, Middle East and Africa (EMEA) region. This is the largest public offering of any Georgian company on a stock exchange. Up to a 100 highly reputable institutional investors from Great Britain, United States of America, Scandinavia and other countries of Europe already purchased TBC Bank's shares.
TBC Bank's investor base has expanded as a result of the IPO on the London Stock Exchange and this will help the Bank achieve its long-term development and strategic goals. Moreover, many of the Bank's shareholders, including institutional shareholders and founders, Mamuka Khazaradze and Badri Japaridze, remain as shareholders of the Bank.
Withthe raised funds, TBC Bank plans to actively finance such growing business segments as retail and Small and Medium Enterprises.
"Listing of our stock on London Stock Exchange is a recognition that TBC Bank, as a financial institution corresponds to the world's highest standards.Moreover, the IPO allows us to furtherimprove our business processes and ensure that the Bank's corporate governance is aligned with international best practices. What is most important, this is an enormous investment, which will support the development of the Georgian economy and increase investor confidence towards companies operating in Georgia – factors that ultimately contribute to the country's long-term economic development. I would also take this opportunity and thank the entire TBC Bank team for their contribution to the Bank's success," – stated TBC Bank CEO Vakhtang Butskhrikidze.