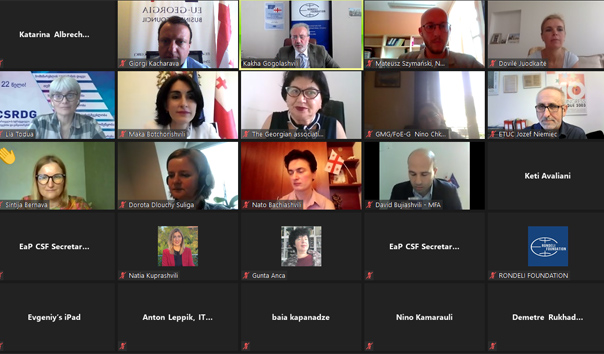 Seventh meeting of the EU-Georgia Civil Society Platform
On June 30, 2021, Executive Director of EU-Georgia Business Council, Giorgi Kacharava took part at seventh meeting of the EU-Georgia Civil Society Platform held in an online format.
The EU-Georgia Civil Society Platform has been established under the article 412 of the EU-Georgia Association Agreement. It aims to monitor the implementation of the agreement and make the recommendations for the EU-Georgia Association Council and other relevant institutions of the governments and parliaments of the European Union and Georgia.
The meeting was attended by the representatives of civil society of EU and Georgia who simultaneously are the members of the abovementioned platform
The opening remarks were made by the Co-chairs of the EU-Georgia CSP: Kakha Gogolashvili, Director of the EU Studies Center and Ms Dovilė Juodkaitė, Lithuania's Forum of Disability Organizations, EESC, as well as Mr. Lawrence Meredith, Director for Neighbourhood East and Institution Building, DG NEAR, European Commission; Ms Maka Bochorishvili, Chairman of the Parliamentary Committee for European Integration, Co-chair of Euronest Parliamentary Assembly; Mr David Bujiashvili, Head of the Department of the EU Assistance Coordination and Sectorial Integration Department of the Ministry of Foreign Affairs of Georgia
During the meeting issues related to Judicial Reform in Georgia have been presented/discussed , as well as Health aspects, including mental health, and health services for the most vulnerable, in the context of the fight with COVID-19 pandemic.