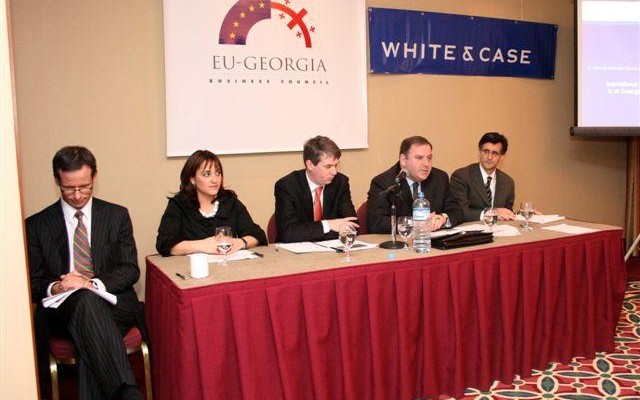 Seminar on Commercial Dispute Resolution
The Seminar, presented by lawyers from the international firm White & Case, provided substantive and practical information aimed to help participants limit their company's exposure to liability and to maximize strategic positioning – before and after a dispute arises. EUGBC Member since November 2007 – White & Case (www.whitecase.com) was named "International Arbitration Team of the Year" by Chambers 2007, and has unparalleled experience in the field.
With over 2,300 lawyers in 36 offices around the globe, the Firm has a growing Georgia practice and has been involved with some of the most significant deals in the region.
Among its numerous practice areas, the Firm has extensive transactional and dispute resolution experience in the oil and gas, power, construction, banking, insurance and telecommunications sectors.
Presentations addressed topics of particular relevance to executives and corporate in-house counsel, as well as government decision makers, including:
Strategic and cost considerations when choosing among court litigation, international arbitration and mediation. Special attention was given to factors unique to emerging markets.
Unique aspects of international commercial and investment treaty arbitration (including choice of arbitrators and enforcement of awards) and how organizations can use them to its advantage.
Steps to tailor transactions and arbitration agreements to reflect specific interests — and avoid unnecessary litigation.
Guest Speakers of the Seminar, Paul Friedland, Villiers Terblanche, Charles Nairac and Sara Lulo, are experienced practitioners from the leading international law firm White & Case LLP.
More information regarding White&Case Georgia Practice you can find HERE
Attached documents