ORIFLAME 15 YEARS OF SUCCESS IN GEORGIA Oriflame Georgia celebrates the 15th anniversary
15 YEARS FULFILLING DREAMS
 2015 year is a very special year for Oriflame. This is the year we celebrate our 15th anniversary of successful work in Georgia. These 15 years have been filled with bright emotions, unforgettable events, dizzying travel. Over 15 years in Oriflame Georgia thousands of leaders who once made right decision of cooperation, closed the new titles, became richer and happier. Tens of thousands of people were able to make extra money in one of the most stable, long-term and growing companies.
Hundreds of thousands of people became loyal customers of our products that meet the highest standards. And company thanks its customers, consultants, managers and executives for this success. Togetherness, Spirit and Passion – the most important qualities that help us and our partners to grow, always achieve our goals and win the love of our customers. 15 years of success – it's just the beginning!
Interesting Points:
2000 (November 20) – The company Oriflame starts working in Georgia
2009 – A new, modern service center opening in Tbilisi
2012 – Oriflame Georgia becomes a regional distribution center in the Caucasus.
2015 – Oriflame Georgia celebrates 15th anniversary.
CATALOGUE №1/2015
New Year & New Products
Dreams come true!
95 great offers on your favorite products!
Superprices, Hiperdiscounts, Megachances!
CATALOGUE №2/2015
St. Valentine's day & many gifts for lovers
35 passionate gifts and luxurious surprises for lovers
Everything for the man you love
CATALOGUE №3/2015
March Holidays & Surprises for Women
New fragrances as symbols of femininity
Feast of youth beauty
168 fabulous gifts and brilliant bestsellers for you and your loved ones.
Volume is important: premiere of the one eyes wide-open mascara!
CATALOGUE №4/2015
Oriflame – 15 years of success… We give the gifts
Recomendations from experts
Plenty of actions,
Many new products,
Lots of surprises
15 is a super gift for the best in every catalogue!
Congratulations from the Georgian stars in every catalogue.
Congratulations from company's top management
And many other surprises…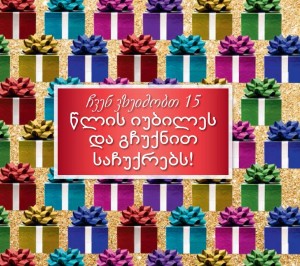 About Oriflame
Founded in 1967, Oriflame is a beauty company selling direct in more than 60 countries. Its wide portfolio of Swedish, nature-inspired, innovative beauty products is marketed through over 3 million independent Oriflame Consultants, generating annual sales of around €1.5 billion. Respect for people and nature underlies Oriflame's operating principles and is reflected in its social and environmental policies. Oriflame supports numerous charities worldwide and is a Co-founder of the World Childhood Foundation. Oriflame is a Luxembourg company group with corporate offices in Luxembourg and Switzerland. Oriflame Cosmetics is listed on the Nasdaq OMX Nordic Exchange.