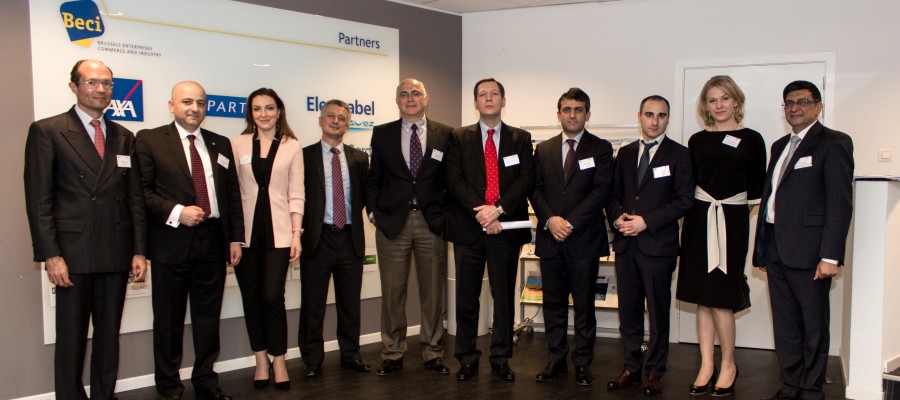 Georgian Business Delegation visit to Brussels
EU-Georgia Business Council (EUGBC) in cooperation with Eurochambers and particularly East Invest project, organized Business Delegation visit from Tbilisi to Brussels on May 6 – 7, 2014. EUGBC member and potential member six companies, namely Magticom, Gvinadze & Partners, JSC Sarajishvili, JSC Efes Brewery in Georgia, LLC Rustavi Steel, Gori Feeding Cannery Kula took part in the program. Georgian delegation was joined by EUGBC Belgium based members: BP, Statoil, Total and Gosselin Group. The visit was broadcasted by Georgian media – Rustavi 2.
The visit was divided into two parts: business and political components. May 6th was devoted to the meetings with representatives of Belgian Business Community (in cooperation with Brussels Enterprises Commerce and Industry – BECI, Flanders Trade and Investment Agency – FIT, Wallonia Foreign Trade & Investment Agency – AWEX) and International Financial Institutions, such as World Bank, EBRD and EIB.
On May 7th were held consultations with the high officials from the EU institutions and the Ministry of Foreign Affairs of Belgium. Following meetings took place: Magdalena Grono, Member of Commissioner Stefan Fule Cabinet (EC); Gunnar Wiegand, Director Russia, Eastern Partnership, Central Asia, Regional Cooperation and OSCE (EEAS); Dirk Schuebel, Head of Division, Eastern Partnership Bilateral (EEAS); Philippe Cuisson, Chief Negotiator on DCFTA, Deputy Head of Unit – Russia, CIS, Ukraine, Western Balkan, EFTA and Turkey, DG Trade (EC); Ingrid Schwaiger, International Aid / Cooperation Officer, DG DEVCO (EC); Gunther Sleeuwagen, Director East & South East Europe, Central Asia, MFA of Belgium & Daniel Dargent, Director Belgian Economic Issues, MFA of Belgium; Natalie Sabanadze, Ambassador of Georgia to Belgium, Luxembourg and Head of Mission to the EU.
EUGBC plans to continue this project during 2014 – 2017 and visit several capitals and business/investment centers in the EU to facilitate direct contacts between Georgian and European businessmen.