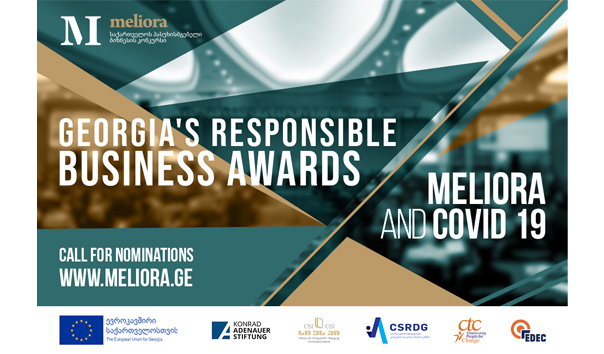 EUGBC – Knowledge Partner for Meliora 2020
Announcing the third annual Georgian Responsible Business Awards Meliora 2020
We are pleased to inform you that  the third annual Georgian Responsible Business Awards – Meliora 2020 – is announced!
Meliora is the most visible award in Georgia recognising Georgian business efforts in Corporate Social Responsibility (CSR).  The goal is to raise awareness of the need of CSR among businesses and citizens, and acknowledge those companies making strides in this area.
Meliora is organised by the Center for Strategic Research and Development of Georgia (CSRDG), with the support of the European Union and Konrad-Adenaer-Stiftung (KAS).
The focus of Meliora 2020 will be Corporate Social Responsibility in light of the current COVID-19 pandemic.  As such, applications will be accepted from Georgian businesses in following four categories:
Supporting employees during COVID 19 pandemic

Supporting clients, customers and suppliers during COVID-19 pandemic

Supporting society /communities during COVID-19 pandemic

Supporting SMEs and most suffered industries during COVID-19 pandemic
Winners, receiving awards for recognition, will be selected by an independent jury consisting of the leading Georgian and international experts would evaluate nominees based on the consistency and effectiveness of their effort, sustainability of the results, and proper design of the initiatives.
The deadline for the applications is 7th December.
Winners will be announced in spring 2021.
This unique competition provides business companies a chance to promote their efforts in CSR and gain recognition for the best place. Georgia's Responsible Business Awards held with the partnership of International and local expert organizations and business platforms was launched in 2018 and till now counts 140 submitted CSR projects.
The detailed information about Meliora 2020 can be find on www.meliora.ge
For further information please contact  >>> Salome Topuridze, PR expert, CSRDG
Tel: (+995) 599 326 555
E-mail: salometopuridze@csrdg.ge