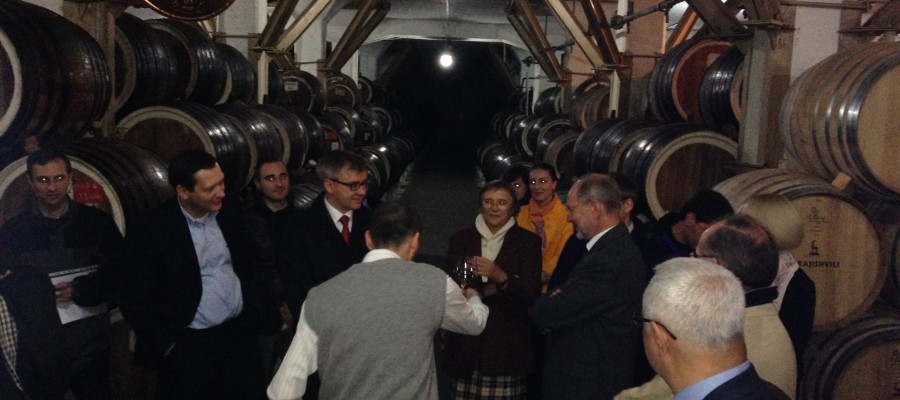 EUGBC held Site Visits at the industrial sites of Bagrationi 1882 and Sarajishvili
On 28 October 2014, EUGBC organized  its regular Site Visit in the plants of sparkling wine 'Bagrationi 1882' and brandy producer 'Sarajishvili'.
The visit was attended by the Ambassadors of the EU member states accredited in Georgia and by Heads of Economic/Commercial Sections at the embassies namely by
Mr. Andrzej Cieszkowski – Ambassador of Poland
Mr. Plamen Bonchev  – Ambassador of Bulgaria
Mr. Iordan Tenev, Head of Economic Section, Bulgarian Embassy
Mr. Priit Turk  – Ambassador of Estonia
Mr. Jūratė Ramoskiene – Deputy Ambassador of Lithuania
Mr. Guenther Baechler – Ambassador of Switzerland
Mr. Ioannis Dermetzoglou – Head of Economic & Commercial Office, Greek Embassy.
Site Tour was broadcasted by TV Companies "Rustavi 2", "Imedi", "Public Broadcaster" and "Maestro". Members of EUGBC Council of Experts, Mr. Vakhtang Kobaladze from Eurasia Partnership Foundation and Ms. Natia Kutavadze, from Transparency International Georgia took part at the Site Visit.
During the visit, discussion covered areas related to Production capabilities, Export, DCFTA and new technologies.