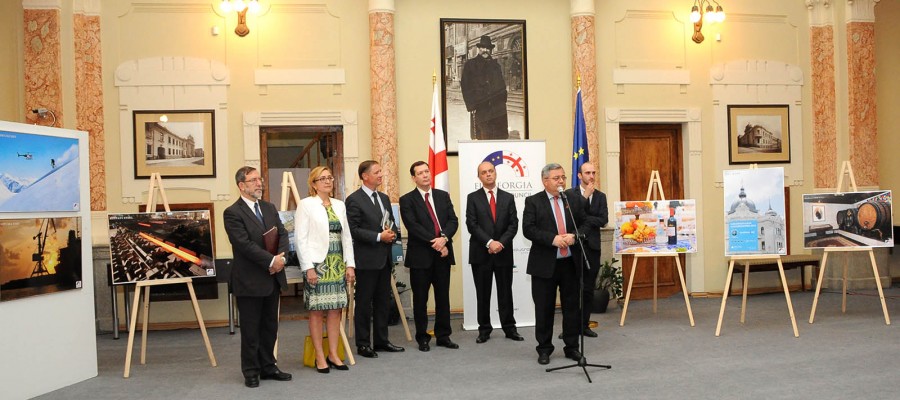 EUGBC Expo & Economic Photo Exhibition
An opening ceremony of EUGBC Expo & Economic Photo Exhibition was held on 2 June, 2014 at the National Parliament Library of Georgia. The exhibition is one of the biggest projects of EUGBC and is organized in order to draw attention to the businesses operating in Georgia, as well as to provide opportunities for interested European companies and potential investors; to assist foreign companies in finding out Georgian business and investment climate of the country; to allow Georgian businesses to introduce their production among the European market.
Almost forty companies participated in the Economic Photo Exhibition and 16 companies provided their production for degustation. Representatives of the government, diplomatic corps and business community attended the opening ceremony.
Giorgi Kekelidze, General Director of the national Parliament Library of Georgia welcomed all to the exhibition. The opening addresses were delivered by Davit Usupashvili, the Chairman of the Parliament of Georgia; Ambassador Philip Dimitrov, Head of the EU Delegation to Georgia; Tamar Beruchashvili, MFA Deputy Minister; Emmanuel Haton, the Chairman of the EUGBC Board, Director of the European Government Affairs at BP; Ambassador Zviad Chumburidze, EUGBC Secretary General and Giorgi Chirakadze, President of Business Association of Georgia, Member of EUGBC Board.
EUGBC Expo & Economic Photo Exhibition was launched in Tbilisi and will be continued in other European countries during the next few years.