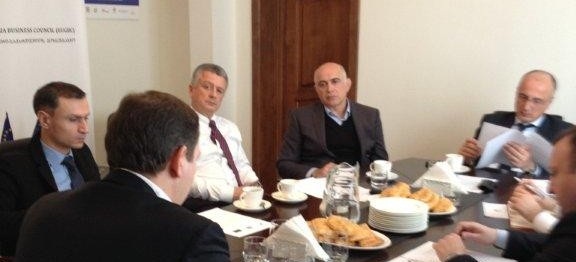 EUGBC Board and Network Committee Meeting February, 2015
 Meeting of EUGBC Board Members was held on February 17, 2015 in EUGBC office. Following Board Members participated in the meeting: Gia Gvaladze (Director, External Affairs at BP-Georgia), Badri Japaridze (TBC Bank), First Vice-Chairman of the Board; David Lee (Magticom), Second Vice-Chairman
of the Board; Nick  Gvinadze from Gvinadze & Partners and David Loladze from Qatar Airways, as well as a new Core Member Irakli Gachechiladze (Igroup, Founder & Director).
EUGBC Management also took part in the meeting, namely: Zviad Chumburidze, Secretary General; Valerian Gvalia, Adviser and Giorgi Kacharava, Project Manager.
The meeting addressed EUGBC Business Conference to be held in Brussels on April 27, 2015.