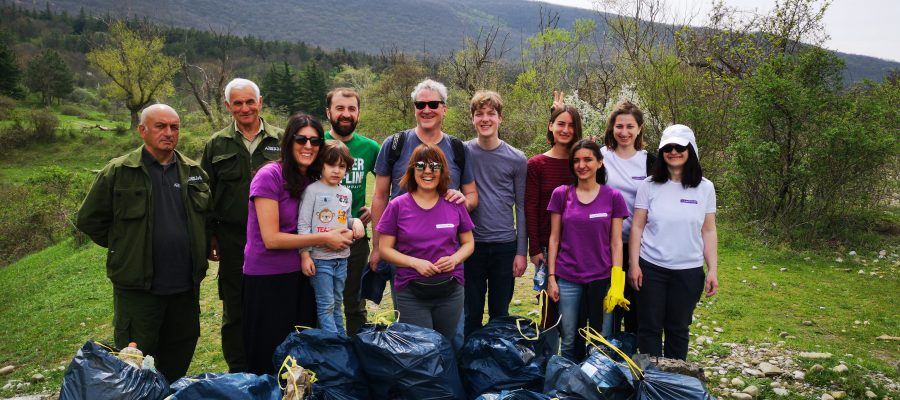 Dentons' Tbilisi Purple team went Green last week ??
Last week Dentons launched Europe Green Week to raise awareness about environmental issues and to become a more sustainable and eco-friendly firm.
Dentons' Tbilisi team has long been involved in environmental work, providing financial and pro bono legal support to the Caucasus Nature Fund, a conservation trust fund that co-finances the national park systems of Georgia, Armenia and Azerbaijan. Last week Dentons organized two Green events in Georgia. We started the week by cleaning-up litter at the Mamkoda Picnic Area in Tbilisi National Park. "Litter is a serious problem in Georgia, even in national parks, and it was fun and meaningful to get out and do some physical work that supports the legal work we do for Georgia's national parks" – commented Ted Jonas, Senior Counsel at Dentons Georgia.
In addition, Dentons Georgia hosted Eka Laliashvili, chairperson of the Georgia Alliance for Safe Roads, to speak to our office and lead a discussion about mobile source pollution – pollution from cars, trucks, buses and other motor vehicles. Her talk addressed the status of Georgian government efforts to address the problem, such as through technical inspections, as well as what we can do personally to mitigate it – both driving less and reducing our emissions when we do drive. Ms. Laliashvili is a leading campaigner for cleaner air and safer roads in Georgia.
About Dentons
Dentons is the world's largest law firm, delivering quality and value to clients around the globe. Dentons is a leader on the Acritas Global Elite Brand Index, a BTI Client Service 30 Award winner and recognized by prominent business and legal publications for its innovations in client service, including founding Nextlaw Labs and the Nextlaw Global Referral Network. Dentons' polycentric approach and world-class talent challenge the status quo to advance client interests in the communities in which we live and work.  www.dentons.com