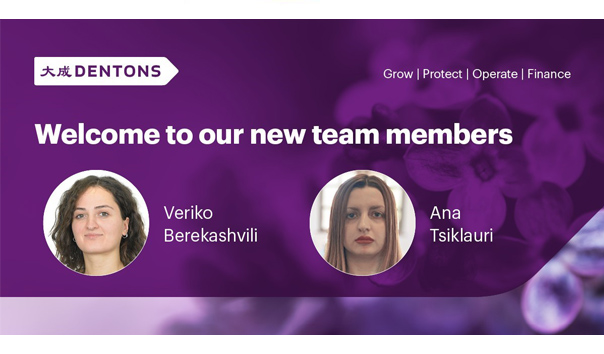 Dentons Georgia Welcomes New Team Members
Dentons' Tbilisi office is happy to introduce the bright and talented junior lawyers who recently joined our team.
Prior to joining Dentons, Veriko Berekashvili worked as a Project Lawyer at Georgian Democracy Initiative (GDI). At GDI, she participated in various projects that aimed to strengthen the rule of law in Georgia. Ana Tsiklauri is the latest addition to our team. She served as a lawyer at Tbilisi representative office of Middle Eastern luxury real estate company. Ana joined us right after completing an exchange semester at Universität des Saarlandes, funded by Erasmus. Both new joiners are students of Comparative Private and International Law, LLM, at New Vision University.
Dentons is designed to be different. As the world's largest global law firm with 21,000 professionals in over 200 locations in more than 80 countries, we can help you grow, protect, operate and finance your business. Our polycentric and purpose-driven approach, together with our commitment to inclusion, diversity, equity and ESG, ensures we challenge the status quo to stay focused on what matters most to you. www.dentons.com