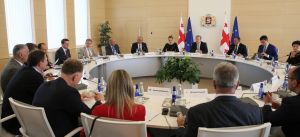 EUGBC management took part in Investors Council meeting
Secretary General of EU-Georgia Business Council, Zviad Chumburidze took part in the meeting of Investor Council, chaired by Georgian Prime Minister Giorgi Kvirikashvili, held at the Administration of the Government.
The meeting was attended by the Chairman of the Board of Directors of EUGBC, BP Country Director in Georgia, Chris Schlueter. As an invited guest, Mr. Schlueter made a speech on the following meeting.
Judicial reform, the initiative to form commercial chambers, the Law on Entrepreneurs, and other important issues concerning the private sector were discussed at today's EBRD President Suma Chakrabarti, as part of his third visit to Georgia, also attended the meeting of the council. Giorgi Kvirikashvili emphasized the importance of EBRD's engagement resulting so far in more than 200 projects implemented and about 3 billion euro invested.
The meeting's participants assessed as revolutionary the prospective establishment of a commercial chambers network in courts and judges' professional training in this direction. The Prime Minister also spoke of the important work by the Investor Council and reaffirmed on behalf of the Government of Georgia commitment to maintaining active cooperation with private sector representatives under this platform in order to ensure their maximal engagement in the development of new laws and regulations.