Legal Service / Consulting / Auditing
---

Gvinadze & Partners LLC
www.gvinadzeandpartners.ge
---
Gvinadze & Partners is a leading Georgian business law firm re-launched in 2010 after our separation from what used to be DLA Piper Gvinadze & Partners. With our predecessor law firms Georgian Consulting Group (GCG Law Office), Ernst & Young Legal (EY Law Georgia), Gvinadze & Partners LP and then most recently DLA Piper Gvinadze & Partners LP, we have a long and successful history of serving and promoting inward investment in Georgia, and are widely recognized as leaders in the Georgian legal services market. In this crucial post-independence period of Georgia's development, we have represented the lion's share of truly diverse international clientele, ranging from international NGOs and diplomatic missions to industrial giants, multilateral lending institutions and multi-billion oil and gas consortia. Our experience is equally diverse and all-inclusive, ranging from start up guidance and incorporation of numerous investment vehicles to representation in some of the most noteworthy and complicated projects of the region in the past two decades. We are equally well-known for our dispute resolution expertise, having acted in some of the highest profile disputes in the Georgian courts as well as in international arbitration, and having provided quality support to many cross-border arbitration and litigation matters involving Georgian law, including successful enforcement of a number of foreign arbitral awards in Georgia.
Existing and potential investors seeking top quality Georgian legal support at an affordable cost. 
44, Kote Abkhazi, 0105, Tbilisi, Georgia
Tel :+995 322 438 970
E-mail: info@gvinadzeandpartners.ge
Web-page: www.gvinadzeandpartners.ge
BGI Advisory Services Georgia
www.bgi.ge
---

Dentons Georgia LLC
www.Dentons.com 
---
PRICEWATERHOUSE COOPERS
www.pwc.com/ge
---
PwC's service offerings are organized into three Lines of Service:
Assurance
Advisory
Tax
Legal
This full service line has allowed us to take on and successfully complete some of the largest and most technically challenging projects in Georgia to date.
Over the past few years, our practice has experienced strong growth in the Georgian market. Our client portfolio in Georgia includes banks, large multinational organizations, donor-funded projects and large Georgian enterprises.
We strive to provide quality products and services, and respond to the complex business issues these companies face in the marketplace. Our continuous presence in the region has been possible as a result of our vision and commitment to the region.
#7 Bambis Rigi street
Business Center Mantashevi
Tbilisi 0105, Georgia
Tel.: +995 32 250 80 50
Fax: +995 32 250 80 60
BDO
www.bdo.ge
---
BDO is one of the leading global accounting and consulting organisations uniquely built to provide the absolute highest standards of service and a collaborative culture that values all of its relationships.
Since 1999 BDO is one of the largest accountancy firms in Georgian market.
Being one BDO (with more than 200 professionals) is a challenge we share with all member firms worldwide (154 countries), a challenge solidly relying on unique BDO experience, values ​​and relationships.
BDO Georgia's service lines are: Audit & Assurance, Tax, Outsourcing, Business Advisory, Legal, BDO Solutions and BDO Academy.
We enjoy outstanding relationships with our clients by focusing on what is important to them, adopting a partnership-style approach, being responsible and reliable, keeping our promises and maintaining open and frank communication. Our approach to relationships allows us to partner with our clients and really get to know them and their organisation.
Using this insight, BDO's team looks for innovative ways to help company's clients maximise growth opportunities, improve processes and avoid pitfalls.
2 Tarkhnishvili Str.
Vere Business Center
0179 Tbilisi, Georgia
Tel: +995 32 254 58 45
+995 32 218 81 88
E-mail: bdo@bdo.ge
EY Georgia LLC
EY.COM
---
EY is a global leader in assurance, tax, transactions and advisory services.
Locally, we are committed to doing our part in building a better working world for our people, for our clients and for our communities.
Globally, we are also united by our shared values, which inspire our people worldwide and guide them to do the right thing, and our commitment to quality, which is embedded in who we are and everything we do.
Contact us or visit us today to see how we can help your business.
We also invite you to learn more about the EY difference: high-performing teams delivering exceptional client service.
Georgia
Tbilisi, 0105
Kote Abkhazi Street 44
Phone: +995 (32) 215-88-11
Fax: +995 (32) 215-88-22
E-mail: info@ge.ey.com
ISO Consulting
www.isoconsulting.ge
---
ISO Consulting is the group of consultants and assessors, providing service according to ISO standards or other management system standards like ISO 9001, ISO 14001, ISO 22000, OHSAS 18001, FSSC, IFS, BRC, etc.
Since 2003 the company operates in Georgia, its consultants and assessors has experience of working with most recognized CBs, like BSI, SGS, TUV, INTERTEK, BVQA, RINA, DNV-GL, etc.
Currently ISO Consulting is an official partner of world's leading CB "Lloyd's Register" and approved supplier of their training programs in Georgia.
Georgia
Tbilisi
Dadiani Street, Karvasla
T: +995 32 210 45 77
D: +995 593 118113

STR CONSULTIN
WWW.STR-CONSULTING.GE 
---
STR-Consulting offers consulting services to help manage your company's core processes, improve and develop them. Consultations include international systems and standards: Quality "ISO 9001:2015"; Good Manufacturing Practice – GMP, GHP, GDP; Environment "ISO 14001:2015", Food Safety "ISO 22000:2005, HACCP, FSSC 22000, GLOBALG.A.P."; Safety Management "OHSAS 18001", ISM, ISPC and other standards requirements.
STR – Consulting offers training and seminars as recognized under international programs, as well as the specifics of your organization, taking into account national legislation.
STR – Consulting offers customers qualified legal services including civil and administrative fields cases. The team of professionals with many years of experience and professional background provide legal consulting services.
Find new partners and will agree on cooperation
Address: 26, A. Melashvili str., Batumi, Georgia
Tel: +995 422 275733; +995 558 945566
E-mail: info@str-consulting.ge; robert.batumi@gmail.com
Web-page: www.str-consulting.ge
Mgaloblishvili Kipiani Dzidziguri (MKD) law firm
www.mkd.ge
---
Mgaloblishvili Kipiani Dzidziguri (MKD) has been at the forefront of the Georgian legal market for two decades. As MKD marks its 20th anniversary this year, it has emerged as a strong, highly competitive, well respected and pre-eminent Georgian law firm that provides a full range of legal services to its global clients.
The performance of MKD lawyers and professionals translates into client satisfaction, as the real measure of the firm's success. The firm is proud of the external recognition it has gained through client assessments in a range of international research-based guides for the legal profession, which in 2016 again recognized MKD as one of Georgia's leading law firms.
All companies interested in the Georgian market or in matters of the Georgian law.
71, Vazha-Pshavela Ave.,
4th floor, office 24
Tbilisi, 0186, Georgia
Tel.: +995 32 255 38 80
E-mail: ttkeshelashvili@mkd.ge
Homepage: www.mkd.ge

IBC Corporate Solutions Georgia
www.ibccs.tax
---
KPMG LLP
www.kpmg.com
---
KPMG is a global network of professional firms providing Audit, Tax and Advisory services.
KPMG Georgia LLC is one of the leading providers of Audit, Tax and Advisory services in Georgia. We bring to our clients technical skills, solid practical experience and wide industry and sector knowledge, which help them to develop a competitive edge over their competitors. Our goal is to help our clients not only compete, but become a marketplace leader. KPMG Georgia LLC responds to clients' complex business challenges with a global approach to services that spans industry sectors and national boundaries.
KPMG in Georgia is dedicated to providing the resources and technological tools necessary to support our engagement teams as they deliver Audit services to a wide range of clients.
KPMG Georgia LLC offers a full range of tax services, including personal and corporate compliance and local and international advisory services.
Our advisory team in Georgia works with clients to tackle challenges in Management Consulting, Risk Consulting and Transactions & Restructuring.
3rd Floor, Besiki Business Center 4,
Besiki Street Tbilisi 0108 Georgia
Tel: +995 322 93 5713
FMG LEGAL LLC
WWW.FMG.GE
---
FMG is a member of dynamic network of independent professional accounting firms and business advisers –HLB International.
"FMG – member of HLB International" is included in the rating of the Independent Audit Companies of Georgia and it's ranked #7 based on the database of 2011.
FMG is staffed with a professional team, who quickly responds to innovations and challenges in a modern and dynamic business environment.
We, as a member of the HLB International, have access to the world resources, that enable us to meet customer demand for the service.
All companies interested in the Georgian market or in matters of the Georgian law.
2 Dolidze str, Tbilisi, 0171, Georgia
Tel.: + 995(32) 470900
E-mail: dgogochuri@fmg.ge
Homepage: www.fmg.ge
Geomar Co.Ltd.
www.Geomar.ge
---

LEGISQUADRA
www.Legisquadra.com
---
Legisquadra is an innovative law company situated in a business centre of Brussels next to European institutions. Legisquadra is a team of experienced lawyers that helps multinational corporations, international businesses and individuals to reach their legal needs. The 16 lawyers have a vast experience in the field of negotiation, mediation, consultancy, national and international litigation in all fields of law.
We assist in a broad spectrum of investment deals on a regular basis. We have a vast experience in helping businesses getting started on a local market and abroad.
Legisquadra has international experience and an international network which helped hundreds of businesses with their expansions in countries as Spain, France, Italy, Portugal, Morocco, Brazil, Dubai, Qatar etc. For our clients, we are looking for fast-expanding markets to provide opportunities for entrepreneurs, investors and businesses.
Our lawyers speak French, Dutch, English, Spanish, Italian, Portuguese, Russian and Arabic.
[caption id="attachment_333652" align="alignnone" width="150"]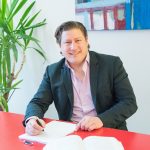 Joris Lombaert
Founder of Legisquadra[/caption]
Address:
Avenue Louise 50 / 3
1050 Brussels
Belgium
Tel: + 32 2 274.02.70
E-mail: joris.lombaert@legisquadra.com
Web-page: www.legisquadra.com
FIC Frankfurt International Consulting
www.Frankfurt-ic.com 
---
Based in Frankfurt, Germany, FIC Frankfurt International Consulting is an expert in brining groups and investors from the GCC and MENA region into partnerships and investments with European counterparts. Being one of the most recent members joining the EUGBC, FIC is now offering its services, expertise and top level network to groups and business partners from Georgia.
Since its inception in 2011, FIC has developed into a leading consulting firm with solid experience and access to top decision makers in the GCC and MENA region, both within the business as well as the relevant, political landscape.
Recent success stories include JV signings, partnerships and strategic investments with renown groups including Al Faisal Holding in Doha, Amer Group in Cairo and RAY International in Muscat. Furthermore, FIC has successfully carried out politically relevant projects with official backing, e.g. in the context of the AIM Congress in Dubai under the umbrella of the Ministry of Economy of the United Arab Emirates and with FIC's regional responsibility for Georgia.
Being very well aware of the the political and business environment in Georgia and it's promising opportunities, we are proud to be at your service.
We are well prepared to support you with your business aspirations both with the regional focus being the GCC and MENA region as well as with regards to our home base Germany.
Address: Schaefergasse 2a-4, 60313 Frankfurt am Main, Germany
Tel: +49 69 1753 66940
E-mail: info@frankfurt-ic.com
Web-page: www.frankfurt-ic.com