NEWS

EUGBC Top Management and Member companies took part at the Georgia-Italy Business Forum held on July 4, 2019 in Tbilisi, which was organized by Embassy of Italy and Italian Trade Agency, in close cooperation with ANCE (National Association of Building Contractors), OICE (Engineering and Architectural Italian Association) and ANIE (National Federation of Electronic and Electric Companies).
The Business Forum focused on the fields of strategic importance for Georgia's development, such as infrastructure, construction and engineering fields, as well as energy and urban development. The Forum was followed by B2B meetings.
---
EVENTS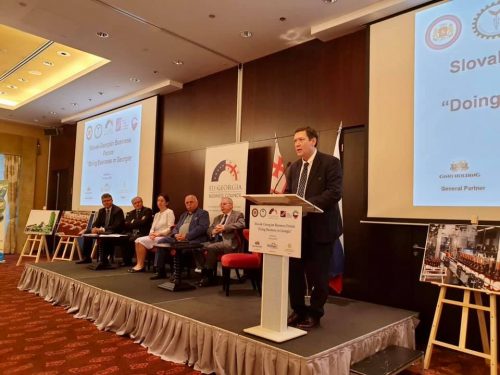 On June 14, 2019 EU -Georgia Business Council organized Regional Business Forum in Bratislava, titled "Doing Business in Georgia". General Partners of the event were companies "Gino Holding" and "Polymer 1" and partner was "Hualing Kutaisi Free Industrial Zone".
Representatives of more than 80 Slovak, Austrian, Polish, Czech and Georgian companies participated in the business forum, mainly from the following sectors – Free Industrial Zone, Banks, Transport Transportation and Logistics, Construction, Energy, Tourism, Agriculture and Business Consulting.
The forum was followed by the economic photo exhibition and B2B meetings, in order to discuss future cooperation between the interested companies.
EUGBC organized the following Business Forum in cooperation with Ministry of Foreign Affairs of Georgia, Georgian Embassies in Slovakia and Austria, Slovak Chamber of Commerce, Georgian Chamber of Commerce and Industry (GCCI) and with the Agency "Enterprise in Georgia".
---
On March 19, 2019 EU-Georgia Business Council organized the next in turn meeting between EU Commissioner for Trade, Ms. Cecilia Malmström with Businesses. 
Attendees were addressed by the Secretary General of the EU-Georgia Business Council, Mr. Zviad Chumburidze, Ambassador of the European Union to Georgia, H.E. Carl Hartzell and Minister of Economy and Sustainable Development of Georgia Giorgi Kobulia.
The meeting was attended by more than 130 participants representing Business sector, Business Support Organizations, as well as Diplomatic Corps accredited in Georgia. Founders of successful and export-oriented Georgian companies spoke about perspectives and challenges for entering the EU Market. The Head of the Regional Representation of the European Investment Bank in South Caucasus, Mr. Maciej Czura, presented technical tools supported by the European Bank for the purpose of strengthening the private sector through effective financing. After the presentations the meeting continued in Q&A mode. During the meeting EU-Georgia Business Council announced about launching of the a new project titled "Georgian Women Winemakers".
---
UPCOMING EVENTS
Council's Highlights
EUGBC - Member of Investors Council